Fun for the whole family awaits at our pool facility, which is just steps from the edge of American Lake

Summer in the Pacific Northwest is anxiously awaited during the colder months, so you want to take full advantage when it rolls around. Our stunning pool facility provides the perfect place to have family fun under the sun. 
Included in this facility are a competition-sized pool, a wading pool for small children, and a hot tub for those 15 and over. You're sure to work up an appetite with all this activity, so poolside food service is offered. For the safety of our members and guests, a lifeguard is always on duty during pool hours. 
Apart from the pool, we have one other swimming option for members to enjoy – the lake itself! Our swimming dock out into American Lake means adults and kids alike can access the lake's waters quickly and easily.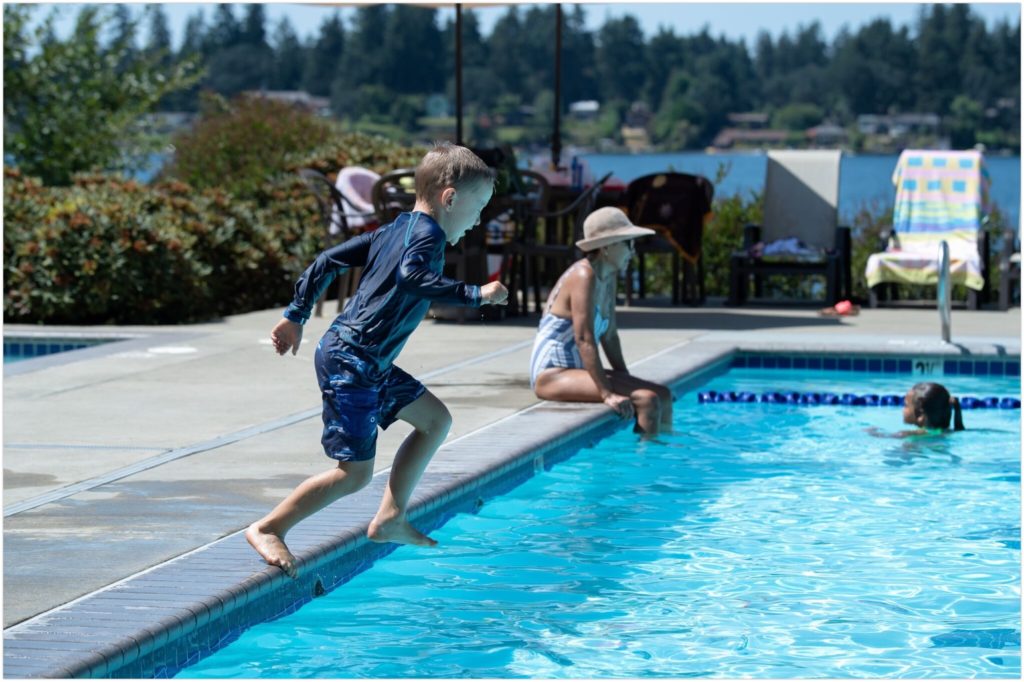 The pool is currently closed for the season
Please check back later to see the 2020 pool schedule.
Group Learn-to-Swim Lessons: 
2-week sessions
Monday-Thursday (times to be determined)
Session 1: June 19-29
Session 2: July 10-20
Session 3: July 31-August 11
Swim Basics
Stages 1,2,& 3: Personal
Water Safety & Basic Swimming Competency
Stage 1 Water Acclimation
Stage 2 Water Movement
Stage 3 Water Stamina
Swim Strokes
Stages 4, 5 & 6: Building Stroke Technique
Stage 4 Stroke Introduction
Stage 5 Stroke Development
Stage 6 Stroke Mechanics

Classes:
Stages 4, 5 & 6:
Monday-Thursday
9:45-10:30 a.m.
Eight 30 minute or 45 minute classes available
Private & Semi-Private Lessons: ages 7 years – adults; available by appointment only. 
Daily Open Swim
11:15 a.m.-6:00 p.m..